Data Centers
ADVANT has many years of extensive experience in the design, construction and maintenance of a Data Center infrastructure. We have been specializing in this field since 2004. Knowledge of ICT systems, which have been our core business since the first days of the company, was a great foundation for the successful development of high level skills in designing and building of Data Centers. These skills are closely intertwined with other, very specific disciplines, such as mechanical and electrical installations, architecture, technical security, and more. The planned specialization of our engineers has led us to the creation of a unique team that covers all that areas. For many years ADVANT remains the leading Slovenian company for the design, construction and maintenance of Data Centers.
During this time, many companies and Government organizations, such as KRKA, TELEMACH, PETROL, NLB bank, Institute Jožef Stefan, Ministry of Education, Science and Sport, Insurance TILIA, Chemical Institute Ljubljana, NAJDI.SI, ARNES, Ministry of Defense, ARSO, Šoštanj Thermal Power Plant, Ministry of the Interior and others have entrusted us the design, construction or renovation of their Data Centers.
We are proud that one of our Data Center engineer managed to be the first in Slovenia to become an Accredited Tier Specialist by Uptime Institute Inc.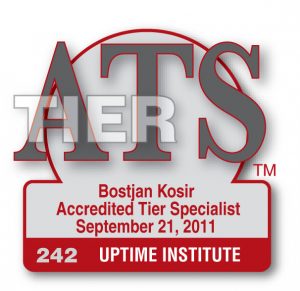 Based on this accreditation, ADVANT as the only company in Slovenia perforoms a DATA CENTER AUDIT services that covers the evaluation of existing Data Centers in order to assess the status and issue recommendations for increased availability (TIER level), energy efficiency and physical security.
After building the Data Center, we also offer our customers high level maintenance services. With our own technical support, we cover most of the Data Center infrastructure, from Uninterruptible Power Supplies, Cooling Systems, DCIM, Coper and Fiber Structured Cabling, Networking and Servers.
The level of Service can reflect your needs, including covering 24/7 on-duty response for most advanced customers.
---
---
The offer includes:
Design
Construction
Maintenance
---
Have a question? Contact us.
Advant d.o.o.
Ljubljana, Cesta na Brdo 119A, Slovenia
Phone: +386 1 470 00 00
Fax: +386 1 470 00 10
E-mail: info@advant.si
Optimizirajte si delovanje podatkovnega centera