Modular Access Floor
ADVANT is a supplier of high quality Modular Access Raised Floor. Our offer flooring solutions for data centers and office environments.
A flooring solution for technical rooms such as data centers, with a special structure meets all the needs for high floors and heavy loads, ventilation or cooling requirements, and flexibility of the underneath space. Two types of panel core are available, both with aluminium foil on lower side and HPL on top.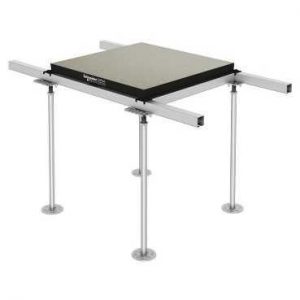 ADVANT prefers Modular Access Raised Floors from the manufacturer UNIFLAIR / Schneider Electric.
For Data Centers we mostly recommend so-called TR STRUCTURE support system. Made from galvanized steel supports, these structures are available in different heights from 30 cm up to 150 cm and beyond. Together, they make a 60×60 cm support grid for the panels and they increase the mechanical resistance and stability of the floor. The support heads and steel frames are designed to be fastened to each other anywhere along the perimeter to enable support at higher distances and to have more freedom in installing any data center system in the under floor plenum. This is achieved by longitudinally connecting the structure with a C-profile, 2400mm in length. The raised floor panels are laid not directly on the leg heads, but on a raster of C-profiles, which is firmly screwed onto the legs of the substructure. In this way, depending on the core material used, the loads of classes 5A and 6A can be achieved according to EN 12825.
The panels core material may be compressed chipboard or calcium sulfate. The Calcium sulfate core is used in the case of the highest floor load requirements.
Additional floor reinforcement can also be used to select the type of double floor panels. Thus, instead of aluminum foil, which is standardly used as the bottom layer of the panels, a 0,5mm layer of galvanized steel can be used. This reduces the flexural strength of the panels and contributes to their stability and load-bearing capacity.
Recently, high-pressure laminate has been increasingly used as the final layer of panels. This, compared to rubber or vinyl, contributes to greater scratch resistance and thus a longer lifespan.
Modular flooring for office environments with underfoor distribution systems that can be easily installed, modified, and integrated at any time allowing the solution to be adaptable to layout changes throughout the life of the building. The combination with Schneider installation systems designs a flexible space suitable for the most modern collaborative working environments. Every environment has different needs, based on its function and enhancement of the aesthetic value. For this reason, the full range of finishing materials and the possibility to build panels of different size, offers a perfect combination of easy installation and maintenance, flexible spaces, energy efficiency, and the best aesthetic effect for any situation.
---
---
The offer includes:
Design
Construction
Maintenance
---
Have a question? Contact us.
Advant d.o.o.
Ljubljana, Cesta na Brdo 119A, Slovenia
Phone: +386 1 470 00 00
Fax: +386 1 470 00 10
E-mail: info@advant.si
Optimizirajte si delovanje podatkovnega centera