Copper Systems
Copper cables are part of a universal structured cabling system and are available in unshielded (UTP) and shielded version (FTP, S-FTP).
They can be divided into:
Category 8 (Class I and Class II – Category 8.1 and 8.2)
Category 7 and 7A (Class F and FA)
Category 6A – 10Giga (Class EA)
Category 6 (Class E)
Category 5e (Class E)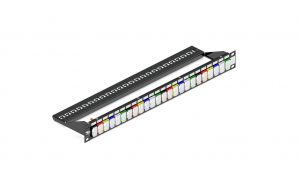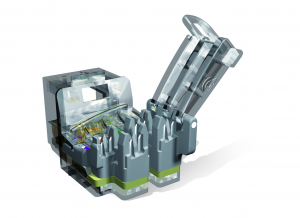 A twisted pair can be used as a balanced line, which as part of a balanced circuit can greatly reduce the effect of noise currents induced on the line by coupling of electric or magnetic fields. The idea is that the currents induced in each of the two wires are very nearly equal. The twisting ensures that the two wires are on average the same distance from the interfering source and are affected equally. The noise thus produces a common-mode signal which can be cancelled at the receiver by detecting the difference signal only, the latter being the wanted signal.
Common-mode rejection starts to fail on untwisted wires when the noise source is close to the signal wires; the closer wire will couple with the noise more strongly and the receiver will be unable to eliminate it. This problem is especially apparent in telecommunication cables where pairs in the same cable lie next to each other for many miles. Twisting the pairs counters this effect as on each half twist the wire nearest to the noise-source is exchanged. Provided the interfering source remains uniform, or nearly so, over the distance of a single twist, the induced noise will remain common-mode.
The twist rate (also called pitch of the twist, usually defined in twists per metre) makes up part of the specification for a given type of cable. When nearby pairs have equal twist rates, the same conductors of the different pairs may repeatedly lie next to each other, partially undoing the benefits of twisting. For this reason it is commonly specified that, at least for cables containing small numbers of pairs, the twist rates must differ.
In contrast to shielded or foiled twisted pair (typically F/UTP or S/FTP cable shielding), UTP (unshielded twisted pair) cable is not surrounded by any shielding. UTP is the primary wire type for telephone usage and is very common for computer networking.
When developing cable systems, the requirements of evolving high-speed computing networks should not be forgotten. Due to the need for more data flow on the local computer network, cable systems have to bear increasing loads, which means an increase in frequency range and an exceptional "Powersum Near End Crosstalk" (PSNEXT). Therefore, only high quality PSNEXT and PS ACR features will satisfy the high density and speed of data flow needs.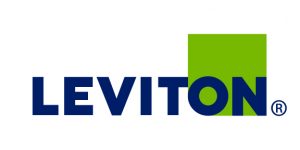 Today's wired computer networks dictate the increasing demands, especially the bandwidth within the local area network.
Leviton Network Solutions supports commercial and residential networks around the globe with an unparalleled selection of network infrastructure products and systems. From the data center to the desk, our proven end-to-end performance keeps people connected.
In 2015, Leviton acquired Brand-Rex, a leading network cabling manufacturer based in Glenrothes, Scotland. Now, as the new European headquarters for Leviton Network Solutions, we manufacture copper and fiber optic cabling infrastructure, including custom pre-terminated solutions. Our cabling systems are backed by responsive customer service, technical support, and 25-year warranties.
Leviton also manufactures high-performance specialty cabling for extreme environments, including military, rail, automotive, industrial, and aerospace applications. These solutions, made at our Leigh, England, factory carry the Brand-Rex brand, a trusted name in high-performance cabling for more than 45 years.
Ever since its founding in 1998, ADVANT has a successful partnership with the pioneer in the field of structured cabling, Systimax Solutions (link: https://www.commscope.com/SYSTIMAX-Solutions/). Some employees have been holding personal certificates for their trainings since 1991 and to this day, so we can really talk about years of extensive experience in the design, implementation and maintenance of universal structuerd cabling on both copper and fiber optic solutions. This knowledge needs to be renewed every two years, so we are always up to date with the latest trends and solutions in this field. Let us mention the design and layout of smart copper and optical wiring using the highest quality components to ensure the highest possible transmission speeds today (10Gb copper and 40 and 100Gb optical fiber). ADVANT's team of experts for Structured Cabling Systems play the most significant role on our market and abroad.
During this time, the installation of universal structured cabling was entrusted to us by many companies and organizations such as NATO, Hewlett Packard, Stahlgruber, Amgen, the Ministry of Defense, the Ministry of Public Administration and many others.

---
---
The offer includes:
Design
Construction
Maintenance
---
Have a question? Contact us.
Advant d.o.o.
Ljubljana, Cesta na Brdo 119A, Slovenia
Phone: +386 1 470 00 00
Fax: +386 1 470 00 10
E-mail: info@advant.si
Optimizirajte si delovanje podatkovnega centera